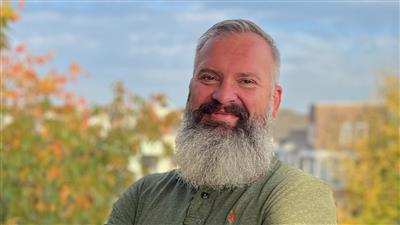 'Diversity is vital to the future of storytelling.
OTF CEO, Bo Stehmeier sat down with C21Media to highlight the importance of diversity within...
OTF CEO, Bo Stehmeier sat down with C21Media to highlight the importance of diversity within storytelling and the media industry.
Since it launched in Amsterdam in 1994, Off the Fence has produced more than 700 hours of non-fiction programming, won an Oscar and opened offices in London, Bristol and Toronto. Now, under new CEO Bo Stehmeier, the company is committed to making the same success of positive change.
C21 Media asks:
What does your role involve?
I oversee the delivery of Off the Fence (OTF)'s overall strategy.
Do you have a specific stated mission with regards to the four verticals within The Big Picture Network?
• Inclusivity & diversity
We all know biodiversity is key to safeguarding the future of our planet. At OTF, we believe narrative diversity is vital to the future of storytelling. The traditional mono-mainstream narrative that the West has been exporting to the East is harmful and unhealthy – which is one reason why we recently signed a deal with Korea's RAPA, under which we're collaborating on the development of Korean factual IP for the international market.
As both a company and an employer, we're keen to show, on screen and off, that we're diverse and inclusive. In practical terms, that means we recruit staff from all backgrounds and liaise with companies like Bristol-based BoomSatsuma on work-experience and other opportunities. We also make sure everyone working at OTF knows we have an equality and diversity policy and that we value people as individuals and respect their different opinions, cultures, lifestyles and circumstances.
• Sustainability & environment
Natural history, the environment and impact have been at the heart of OTF's content strategy since we launched in the early 90s, long before these issues became fashionable or urgent. Recent examples include My Octopus Teacher, which won us an Oscar for best documentary in 2021, The Letter: A Message to Our Earth, Going Circular, The Future From Above and My Gorilla Dream. Off screen, we attempt to practice what we preach in our programming, so we're working with an environmental, social and corporate governance consultant and have set up an in-house 'Green Forum' to create our mission statement on sustainability.
• Business practice & operations
We've been creating sustainability guidelines with the support of Albert, which helps the global film and TV industry to tackle its environmental impact and create content that mobilises positive action for the planet. We use a green energy supplier, recycle where possible, and encourage staff to use our cycle-to-work scheme and be as paperless as possible. But there's so much more we can do, which is why we're now working to create a mission statement on sustainability.
We've also made mental health and wellbeing a priority. We offer staff mental-health days off, talk openly and without judgement about mental health in meetings, and carry out regular team 'temperature checks' to make sure everyone's coping with what can be a stressful work environment. Added to that, we have several qualified mental-health first-aiders – and are training up more – subscribe to TeamDoctor and circulate useful short films to encourage mindfulness.
• Content & storytelling
This bleeds into the genre for which OTF is best known: programming focused on climate change and its impact on society, the natural world and the future of our planet. But as a content-investment company, we also want our IP to find international homes, so our projects tend to have a wider representation and point of view than the average commercial narrative.
CLICK HERE to read the full interview/article.
read more
read less
Off the Fence presales Future from Above to USHUAïA TV, along with an additional 80-hour package of programming.
The international distribution arm of factual content specialist Off The Fence (OTF) has pre-sold...
The international distribution arm of factual content specialist Off The Fence (OTF) has pre-sold The Future From Above (4 x 60 mins) to TF1-owned French nature broadcaster Ushuaïa TV, which has also acquired an additional 80-hour package of OTF programming. Under the deals, which were brokered by OTF Amsterdam-based sales executive Emmanuel Grinda, the package rights are split for linear and standalone SVOD.
The Future From Above is a co-production between OTF Studios, Sky, EarthxTV and Korean channel ENA (KT Skylife TV) and production company Borderless Lab, with funding from Korean communications agency KCA. The series focuses on how the world could look in 2050 — the defining year for our planet's future — if we embrace the revolutionary technology and thinking needed to transform every aspect of our lives, from how we communicate, harness energy and travel to how we live, eat and recycle our waste.
Emmanuel Grinda said: "We are unequivocally at a juncture where world audiences are demanding better storytelling on our environment, to better understand what nature is and means to us and what practical things we can all do to help tackle the challenges ahead. I'm proud to say that OTF has a rich history of creating and acquiring content that answers that demand, which allows us to curate packages of programming that deliver not only what today's audiences want, but that help us understand what our planet needs."
For Christophe Sommet, CEO of Ushuaïa TV: "It's important for Ushuaïa TV to acquire programs such as The Future From Above, which is in the channel's DNA. To inspire people to take action, the channel raises awareness of environmental issues, with a positive approach, and by proposing concrete solutions. Ushuaïa TV seeks out international catalogs that are benchmarks for our themes, as in our collaboration with Off the Fence (OTF)."
The 80-hour package features several acclaimed titles, including Nature's Ultimate Survivors (5 x 60 mins), produced by OTF Studios and fronted by conservationist, field biologist and rising natural-history star Dan O'Neill. The series combines stunning footage with the latest science to explore the extraordinary abilities that creatures have evolved in order to survive in the animal kingdom.
Also headed for Ushuaïa TV is Greenhouse by Joost (1 x 60/90 mins, produced by Australian indie Good Thing Productions and presented by Dutch sustainability expert and visionary designer Joost Bakker. Recently described by The New York Times as the "poster boy of zero-waste living", Bakker is on a mission to turn our cities and suburbs into sustainable urban farms. The feature documentary follows his efforts to build a self-sustaining home — an ecosystem that provides its occupants with water, energy, shelter and nourishment.
Other titles in the package include Galapagos: Hope for the Future (1 x 60/90 mins), produced by Amsterdam-based indie NCF. Located in the middle of the Pacific Ocean, the Galapagos Islands, the cradle of Charles Darwin's ground-breaking theory of evolution, are particularly threatened by climate change. But the film tells a hopeful story of passionate researchers who are committed to future-proofing this unique, but fragile, ecosystem.
Several titles in OTF's Wildest… strand, which celebrates the diversity and beauty of a range of global natural habitats, have also been acquired by Ushuaïa TV, including Wildest Islands, Wildest Middle East, Wildest Europe and Wildest Indonesia.
read more
read less
Go Button Media reveals first three greenlights in its six-series deal with OTF and Super Channel
Further to announcing the renewal of its partnership with Canada's Super Channel and...
Further to announcing the renewal of its partnership with Canada's Super Channel and distributor Off The Fence in early 2023, Go Button Media can now reveal the first three factual series to be greenlit and in production, as part of the current 36-hour, six-series deal.
The three new titles are Engineering Evolved, Cursed Histories and Revolutions That Changed the World. Each series will comprise six hour-long episodes.
'Engineering Evolved' reveals the hidden stories of the transportation technology that's set to move the world. From ships to cars to trains and submarines, every episode explores one mode of transit – at the frontier of design, engineering and tech. With input and insights from historians, engineers and futurists, the series examines how innovations and inventions have helped developed each type of transport to what it has become today and where it is going in the future.
'Cursed Histories' explores the strange histories and legends of those who lived, or died, by a curse. From the tomb of Tutankhamun to the Hope Diamond and the Lost City of Frenier, history is riddled with people, places, and objects that spread utterly wicked, unbridled chaos; bringing death, disaster, and destruction upon them. How did these curses come to be? Whose wrath invoked them? What's the truth behind the unlucky afflictions and can anyone ever hope to contain them? Each episode will feature three harrowing tales of some of history's most dauting curses.
'Revolutions That Changed The World' examines the rise and fall of selected empires, monarchs and military leaders, many of whom learned the hard way that power is far from absolute and allegiance, always conditional. But what conditions prompted Spartacus' slave rebellion or Queen Boudicca's vengeful mutiny? And what caused the French to turn against their own monarch? What caused each reigning regime to weaken? Who defected? Who plotted to seize power or inspired others into bloody action? And which parties ultimately prevailed? Regardless of the victor, once the scales of power tipped, the turbulence created would forever change the world...
Daniel Oron, co-founder and executive producer at Go Button Media comments: "Following our creative development process and close collaboration with our partners at Super Channel and Off The Fence, we are thrilled to launch into the making of three series in history and engineering - two particular sweet spots for our company. With these new series going into production it promises to be an exciting and extremely busy summer for Go Button Media."
Loren Baxter, head of acquisitions at Off The Fence, says: "The beauty of working in this way with Go Button Media and Superchannel is the flexibility we have on the concepts, which are being fed by the most up to date feedback from our sellers as to what buyers are looking for. We're bringing to the market three shows that we know will (and already are) receive a lot of interest from our clients."
Jackie Pardy, chief content officer at Super Channel adds: "Once again, Daniel and the team at Go Button Media have succeeded in creating exciting new twists on established areas of interest, ones that frequently rate well for us. With deliveries that start this autumn and move into early 2024, we are looking forward to bringing these wonderful new engineering and history titles to Super Channel viewers over the coming months."
read more
read less
Fantastic Friends to Premier on the CW Network and Series 2 picked up by HBO MAX EMEA and Bell Media's Crave
The international distribution arm of factual content specialist Off The Fence (OTF) reports that...
The international distribution arm of factual content specialist Off The Fence (OTF) reports that Fantastic Friends will see its first season launch and US premiere on July 18th on The CW Network. The CW has also committed to the second season of Dash Pictures' hit travel series, again hosted by James and Oliver Phelps, aka the mischievous Weasley twins of Harry Potter fame.
The second season of Fantastic Friends, which has been extended from six to eight episodes, has also been acquired by HBO Max EMEA and Crave in Canada after successful runs of the first season last summer. The series will see more famous faces from the Harry Potter franchise join the James and Oliver on their travels, including Mark Williams, who played the twins' father in the films, Matt Lewis, Alfie Enoch, Nat Tena and Stanislav Yanevski. Corey Mylchreest, who plays the young King George in the hit Netflix series Queen Charlotte: A Brigerton Story, will also feature in the second season.
The show is filmed in locations including Turkey, the Swiss Alps, Singapore, Australia, Florida in the US, Chile and Patagonia. It is produced by Dash Pictures' Daniel Sharp and Agata Pieczynska (For the Love of the Game; Prince Harry in Africa) and executive produced by James Phelps, Oliver Phelps, Martin Blencowe and Daniel Sharp.
Fantastic Friends is part adventure-travel series, part magic-infused challenge show and part a celebration of friendship. Produced and directed by Emmy Award-nominated filmmaker Daniel Sharp (Vikings: The Rise and Fall; Disasters Engineered; Top Gear America), each episode sees the Phelps twins travel to a destination to meet up with one of their famous friends, who then take on the role of tour guide.
Season one featured the twins' Harry Potter co-stars Evanna Lynch (Luna Lovegood), Bonnie Wright (Ginny Weasley) and Luke Youngblood (Lee Jordan), as well as Game of Thrones' Maisie Williams, Outlander's Sophie Skelton and The Sixth Sense's Haley Joel Osment. The action moved from Iceland to Ireland, from St Lucia to Dubai, as the twins expanded their horizons and explored new worlds, while engaging in a series of magic-themed challenges and competitions.
Stefanie Fischer, OTF's managing director of sales, said: "We've seen the success that Fantastic Friends has had internationally, with broadcasters coming back for the second season. We're thrilled that US audiences will now get to share in that excitement on the CW. We've no doubt it will be a huge hit across the pond, with many other markets reaping the benefits that the twins' fan base brings."
Daniel Sharp, founder and executive producer of Dash Pictures, added: "We're extremely happy to see Fantastic Friends land on The CW - a perfect home for it in the US and that we've had this opportunity to create a second season, with an extraordinary ensemble of guest stars, and of course, James and Oliver Phelps. It's a pleasure to continue our collaboration with Off The Fence and grow this second season from 6 to 8 episodes. Myself, Martin, James and Oliver are looking forward to working closely with our broadcast partners to promote the series on The CW, and continue our work with HBO and Crave on the second series."
read more
read less